Lodging: Hotel Oriental
To be perfectly honest, we headed to Hotel Bellavista first solely because it was supposedly Korean-run. Primed with questions on the Korean immigration experience, we entered the dreary low building on the plaza and noted it failed to resemble the guidebook description. The incredible price of $6 for a double with bath could not compensate for the reform school-esque dark hallways and claustrophobic long layout, indifferent young staff and gloomy small rooms. Nary a Korean in sight. We stayed until the sweat dried, then quietly picked up our unopened bags and left.
On another side of the plaza was Hotel Oriental. Hey, close enough! Obviously "Oriental" doesn't actually mean "Asian" in Amazon Basin countries, but we were amused enough. For the paltry difference of a few dollars, Hotel Oriental beat Bellavista by miles.
A kindly woman in her 50s welcomed us with glasses of fresh juice from the hotel's homegrown starfruit. Laid out in a rectangle with the rooms along the sides, rough-hewn tables and chairs set on the walkways, the hotel's prize feature was a beautiful tropical garden in the center with comfortable, colorful hammocks.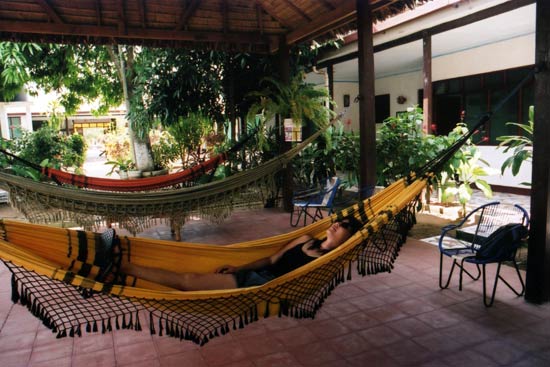 Hammock time once again...in the central garden of Hotel Oriental
I'd had bad experiences with this layout in the past. Loud drunks love hammocks! At Hotel Oriental this is not a problem. Hammocks are taken down around 10PM, the night staff shuts off the lights by 11 to avoid mosquitos, thus gently discouraging late-night revelling, and the proliferation of gringo bars keeps the rowdiest folk out until bedtime.
Because most visitors to Rurre come for the jungle and pampas tours in the area, the smiling staff are very used to people needing a left-luggage room. Hotel Oriental felt very secure.
The rooms are small and basic. There were no mosquito nets above our twin beds, but we slept with our DEET lotion on and felt fine. The blankets provided are little more than thick sheets but it's so hot covers are not necessary. There was also a fairly weak ceiling fan.
For once, I actually WISHED the hotel did not have hot showers—nothing would feel better after a sticky day than a good dousing in cold water. Most visitors would be pleased that the hotel boasts all-day hot water. The showers are uncovered so a fair amount is splashed around, but otherwise the bathroom is decent.
Breakfast is included with private rooms, in the pleasant enclosed dining area in the back. There is plenty of butter, jam and the Bolivian triumvirate of "Kris" brand ketchup, mayo and mustard on the long communal tables. Upon entering the staff takes orders for eggs and brings individual servings of bread and fresh fruit. They do fried eggs just as I like, nice and runny.
For those on a tighter budget, Hotel Oriental also offers rooms with shared bath, no breakfast. The plaza is low-key, away from the bars and tour offices, so hotels here offer a welcome respite from gringolandia. I strongly suggest the private double, however—with the lush setting, warm staff and tasty breakfast, $6 each is a great bargain.